Something Significant Podcast: The Wish Man, Frank Shankwitz
Podcast: Play in new window | Download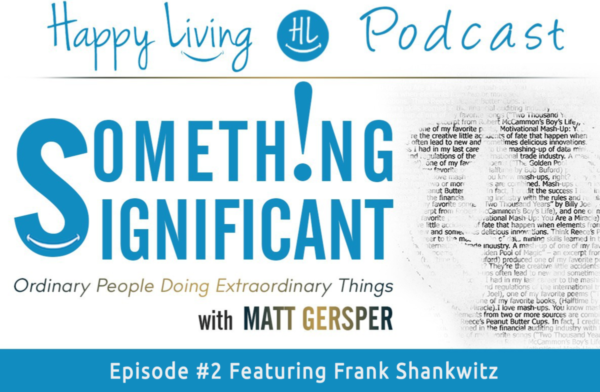 "You've got to learn to turn the negative into the positive."
(Juan Delgadillo[1])
I believe in serendipity…or destiny…or providence. It's called by many names. I call it the Power of the Universe[2]. In my post, A Year of Easy Expansion for Happy Living, I shared how this Power seemed to have had a hand in my meeting Frank Shankwitz.
In preparing for this interview, I read Wishman, the life story of the man who created the Make-A-Wish Foundation. It's Frank's story, and wow! What an inspiring life he has led! Through a very challenging childhood and while overcoming tremendous hardship as an adult, Frank was often lifted by the kindness and generosity of others. At every turn, when and where he needed it the most, help seemed to come from someone or somewhere unexpected.
As a result of his direct experience, Frank believes in the miraculous nature of life; but it wasn't until he witnessed the compassion and generosity of strangers who came together to make a difference in another little boy's life[3] that Frank's destiny became clear.
Shortly following that boy's death, Frank came to understand why he was here[4]. "I listened to my soul," says Frank, "which continually led me right back to my heart, where the answer had always been." In that moment, Frank began a 36-year journey granting the wishes of more than 350,000 kids with life threatening medical conditions… and counting!
If you'd like to hear more about Frank's incredible life and what this journey has meant to him, you're really going to want to listen to this episode of the Something Significant Podcast.
I am so grateful that my life path crossed with Frank's, because at Happy Living, we also believe in living a heart-led life. It gives me great pleasure to share with you an amazing, inspiring and uplifting interview with the man who was destined to become the Wishman.
Follow Frank…
[1] https://en.wikipedia.org/wiki/Delgadillo's_Snow_Cap_Drive-In
[2] When I immerse myself in the work I love (reading, learning, experimenting and writing about things to improve the health and wellbeing of the world, one person at a time), it seems the Universe conspires to help me, too.
[3] Watch the video of the Wish that started Make-A-Wish
[4] My Philosophy on Why We're Here
Comments
comments